Living Water Church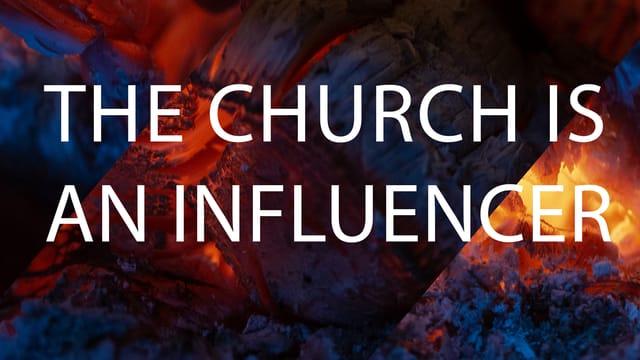 The Church Is An Influencer
August 1st Weekend Service with Pastor George Dupree
As the Church we have a great opportunity to influence our world to know and have a relationship with our God.
I want people to know that although we call this building our Church it's really just a building. It means an awful lot to us, of course.
The Church Is Not A Building – The Church Is People
In the Bible when you see the English word Church the Greek language word is ekklesia which, in essence, means those who have been called out. Peter tells us that we have been called out of darkness…
9 But you are a chosen generation, a royal priesthood, a holy nation, His own special people, that you may proclaim the praises of Him who called you out of darkness into His marvelous light;
The love of Christ is a central element of Christian beliefs. It refers to the love of Jesus Christ for humanity, the love of Christians for Christ, and the love of Christians for others.
The love FOR Christ is a reflection of His love for his Church.
Jesus said if anyone loves me, he will keep my word, and my Father will love him, and we will come to him and make our HOME with him. – John 14:23
Saint Augustine wrote that "the common love of truth unites people, the common love of Christ unites all Christians"
Moses said you shall love the LORD your God with all your heart and with all your soul and with all your might. – Deuteronomy 6:5
Relationship with God begins with the heart – The Center of a person.
The soul encompasses mans essence, all that he is.
Might in the Hebrew language means "very" what would it mean to love the Lord will all our "very-ness"? Interestingly, the Greek translation of this word is "power." The Aramaic translation is "wealth." Both of these may actually be pointing in the same direction, for the strength of a person is not simply who he is, but what he has at his disposal.
If Moses's call to love God starts with our heart and then moves out to our being, could not our "very-ness" be one step bigger and include all our resources?
This means that the call to love God is not only with our physical muscle, but with everything we have available for honoring God.
The Church Is Under The Reign of Our Lord Jesus
10 that at the name of Jesus every knee should bow, of those in heaven, and of those on earth, and of those under the earth, 11 and that every tongue should confess that Jesus Christ is Lord, to the glory of God the Father.
The Church Will Have An Impact On Our World
13 Now when they saw the boldness of Peter and John, and perceived that they were unlearned and ignorant men, they marvelled; and they took knowledge of them, that they had been with Jesus.
Acts of the Apostles 17:6NLT
6 Not finding them there, they dragged out Jason and some of the other believers instead and took them before the city council. "Paul and Silas have caused trouble all over the world," they shouted, "and now they are here disturbing our city, too.
We Are The Church
Do you not know that you are the temple of God and that the Spirit of God dwells in you? — I Corinthians 3:16
And Jesus Gave His Life For Us and for all the world so let's influence others toward Christ.
Give
Thank You For Your Support & Generosity
---