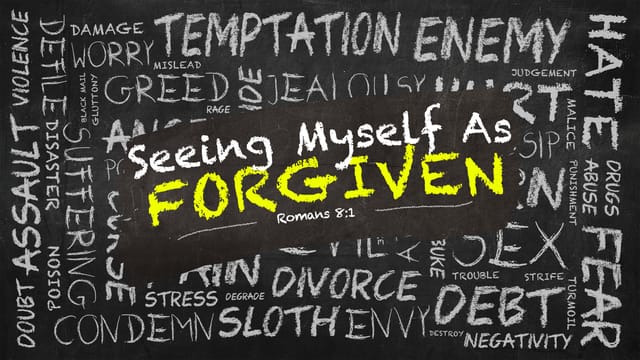 20/20 Vision – Seeing Myself As Forgiven
We're so glad you've decided to spend part of your day with us at Living Water Church. We pray that the message will inspire and encourage you to be all you can for Christ. 20/20 vision is the hallmark of NORMAL vision. When believers have NORMAL vision they see what God sees and they're going to see the limitless opportunities for the purposes of advancing God's Kingdom. Today we'll talk about how we need to see ourselves as forgiven…stay tuned to hear a word from God.
Give
Thank you for your support of Living Water Church
Follow Us On Facebook
Follow Us On Instagram
20/20 Vision – Seeing Ourselves As Forgiven
Sunday, February 16, 2020 – Pastor George M. Dupree
Isaiah 33:17 Your eyes will behold the king in his beauty; they will see a land that stretches afar.
We all have things in our lives that can bring Guilt to us.
There is TRUE GUILT & FALSE GUILT or GOOD GUILT & BAD GUILT.
True Guilt is when we've done something wrong and we feel the remorse or regret.
False Guilt is when something bad happens and we blame ourselves.
The feeling we ought to have when we have done wrong is
This could also be called Good Guilt. This is to motivate us to come to Jesus Christ for his salvation and forgiveness, to make right the wrongs we have done, and to genuinely repent of (turn away from) this type of action.
10 Godly sorrow brings repentance that leads to salvation and leaves no regret, but worldly sorrow brings death.
CONDEMNATION often comes to us after we repent and are forgiven but it's not from God. Jesus did not come to bring condemnation
17 For God did not send His Son into the world to condemn the world, but that the world through Him might be saved.
There Is A Place That Is Free Of Condemnation – It's in Christ
1 There is therefore now no condemnation to those who are in Christ Jesus, who do not walk according to the flesh, but according to the Spirit.
Because you've asked for forgiveness you are forgiven.
12 As far as the east is from the west,So far has He removed our transgressions from us.
There is an ACCUSER – He's like a bully but he's defeated
10 Then I heard a loud voice saying in heaven, "Now salvation, and strength, and the kingdom of our God, and the power of His Christ have come, for the accuser of our brethren, who accused them before our God day and night, has been cast down.
4 Then He answered and spoke to those who stood before Him, saying, "Take away the filthy garments from him." And to him He said, "See, I have removed your iniquity from you, and I will clothe you with rich robes."
We all need to learn how to forgive ourselves. What that means is we have to learn to accept God's forgiveness.
If we are going to experience the plan that God has for us we, of course, need to be right with Him, not perfect, just right with Him. That comes from repentance. Simply put repentance is a change of heart, a change of mind, a change of direction and therefore a change of actions.
Forgiveness is one of the fundamentals of our faith. God tells us that we must forgive. What we sometimes forget is that we have to forgive ourselves.
He is FAITHFUL & JUST To Forgive
9 If we confess our sins, he is faithful and just and will forgive us our sins and purify us from all unrighteousness.
Only the blood of Jesus satisfies God's justice; and He is not looking for any more payment than the Blood of Jesus.
Not forgiving yourself is an act of self-hatred and God never intended for us to hate ourselves.
Love keeps no record of WRONGS
5 does not behave rudely, does not seek its own, is not provoked, thinks no evil;
If LOVE (God) keeps no record why should I?
---