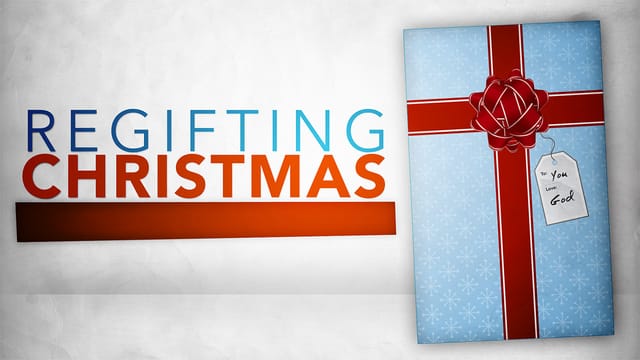 Re-Gifting Christmas
We're so glad you've decided to spend Christmas Eve with us at Living Water Church. We pray that the message will inspire and encourage you to be all you can for Christ. Today we're talking about Re-Gifting – maybe you got a Christmas gift last week and you've decided to give it to someone, that's Re-Gifting. But today we'll talk about Re-Gifting Christmas. Re-Gifting – the act of giving a gift that someone gave you. God gives us a GIFT; He gives us Jesus. 2 Corinthians 9:15 Thanks be to God for (Jesus) His indescribable gift!
Give
Thank you for your support of Living Water Church
• • •
Follow Us On Facebook
• • •
Follow Us On Instagram
• • •
Re-Gifting Christmas
Sunday, December 29, 2019 – Pastor George M. Dupree
Re-Gifting – the act of giving a gift that someone gave you.
People do it; I've done it. Not to you!
So, is re-gifting OK?
Here is what etiquette experts have to say:
• Emily Post: The Emily Post Institute's stance is that re-gifting is all right, but totally depends on context. They suggest that one should only re-gift if the item is brand new and in its original packaging, and if it will not create awkwardness with the sender or recipient. They emphasize that the gift must be something that the recipient actually wants.
• Jacqueline Whitmore: Ms. Whitmore, a business etiquette expert, gives the go-ahead for re-gifting, but reminds readers to "consider the taste" of the receiver and to destroy all evidence that the item is being re-gifted. She wisely suggests that if a gift is expired or really not desirable, just chuck it; don't re-gift it.
Well, it's just four days after Christmas so I'll talk today about re-gifting, Christmas that is.
Because of Christmas we've gotten some wonderful gifts, the most important one is Jesus, God's gift to everyone.
God gives us a GIFT; He gives us Jesus.
• 2 Corinthians 9:15 Thanks be to God for (Jesus) His indescribable gift!
Just as God is a giver, He wants us to be givers. The Apostle Paul said this –
• Acts 20:35 remember the words of the Lord Jesus, that He said, "It is more blessed to give than to receive."
God blesses us so we can bless others.
God gives us Hope – let's re-gift that.
For someone stuck in a dark place the greatest comfort would be light. The light would bring hope.
• Isaiah 9:2 says – The people who walked in darkness have seen a great light; those who dwelt in the land of the shadow of death, upon them a light has shined. ​
Psalms 119:49 Remember your word to your servant,
in which you have made me hope. 50 This is my comfort in my affliction,
that your promise gives me life.
Because of God's WORD or HIS PROMISES we can have HOPE & COMFORT. In uncertain times we'll find confidence, comfort & hope from the Bible along with remembering what God has done in our life and the life of others we know. Revelation tells us we OVERCOME by the blood of the Lamb (the death of Jesus) the WORD (logos) (Jesus) of our testimony and that we love not our lives even unto death, that's like saying "I'll believe even if it kills me!
You could give hope to a child who has no food, that'd be a great re-gift.
God gives us Peace – let's re-gift that.
Peace with God – God forgives us of our sins
• Romans 5:1 Now that we have been put right with God through faith, we have peace with God through our Lord Jesus Christ.
Peace Within – We receive His forgiveness and know we are accepted by Him
• Philippians 4:6-7 Don't worry about anything, but pray about everything. With thankful hearts offer up your prayers and requests to God. Then, because you belong to Christ Jesus, God will bless you with peace that no one can completely understand. And this peace will control the way you think and feel.
Peace with Others – We offer forgiveness and we are able to be healed and free.
• Ephesians 4:31 Let all bitterness, wrath, anger, clamor, and evil speaking be put away from you, with all malice. 32 And be kind to one another, tenderhearted, forgiving one another, even as God in Christ forgave you.
You could share a testimony if God ever gave you peace; He did if you're born again.
God gives us Joy – let's re-gift that.
Luke 2:8 Now there were in the same country shepherds living out in the fields, keeping watch over their flock by night. 9 And behold, an angel of the Lord stood before them, and the glory of the Lord shone around them, and they were greatly afraid. 10 Then the angel said to them, "Do not be afraid, for behold, I bring you good tidings of great joy which will be to all people. 11 For there is born to you this day in the city of David a Savior, who is Christ the Lord.
We can tell people who are sad or discouraged that Sorrow doesn't have to last forever
• Psalms 30:5 … weeping may remain for a night, but rejoicing comes in the morning.
God gives us Love – let's re-gift that.
God GIVES Us His Love
• John 3:16 For God so loved the world that he gave his one and only Son, that whoever believes in him shall not perish but have eternal life.
God DEMONTRATES His Love To Us
• Romans 5:8 But God demonstrates his own love for us in this: While we were still sinners, Christ died for us.
How has God ever demonstrated His love to you? You can re-gift it by telling your story or by sharing His Love with someone.
God's Gift To You Is Not Only A Present For The Present – It's A Present For Eternity!
Jesus didn't come to give you religion, he came to give you a life – so unwrap the gift and enjoy all that Jesus came to bring to you.
If you have never received the gift from heaven do it today.
I pray that the LORD will bless and protect you, and that he will show you mercy and kindness. May the LORD be good to you and give you peace. Numbers 6:24 – 26
Now, may the God of hope fill you with all joy and peace in believing, that you may abound in Hope by the power of the Holy Spirit. ROMANS 15:13
---