Living Water Church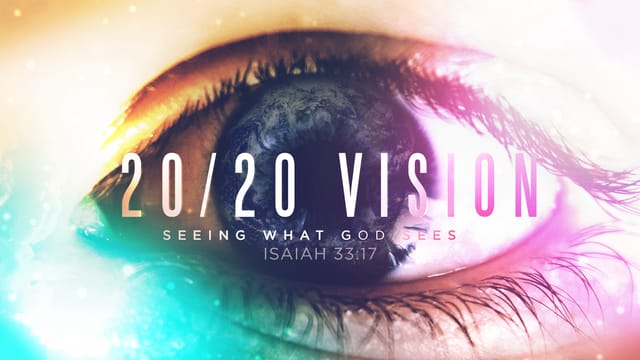 20/20 Vision – How You See God
We're so glad you've decided to spend part of your day with us at Living Water Church. We pray that the message will inspire and encourage you to be all you can for Christ. 20/20 vision is the hallmark of NORMAL vision. When believers have NORMAL vision they see what God sees and they're going to see the limitless opportunities for the purposes of advancing God's Kingdom. Today we'll talk about How You See God – People have different ideas of what God is like, and they communicate with Him according to their perception…stay tuned to hear a word from God.
Give
Thank you for your support of Living Water Church
20/20 Vision – How You See God
Sunday, March 15, 2020 – Pastor George M. Dupree
Isaiah 33:17 Your eyes will behold the king in his beauty; they will see a land that stretches afar.
People have different ideas of what God is like, and they communicate with Him according to their perception. Those who think He is rigid and austere keep their distance. Others, who see Him as formal and stiff, usually approach Him in the same way. Yet those who know Him as Father and Friend enjoy the blessing of a close, intimate relationship with Him — where you can call on Him anytime.
11 At this time Jesus was getting close to entering Jerusalem. The crowds that followed him were convinced that God's kingdom realm would fully manifest when Jesus established it in Jerusalem. 12 So he told them this story to change their perspective:"Once there was a wealthy prince who left his province to travel to a distant land, where he would be crowned king and then return. 13 Before he departed he summoned his ten servants together and said, 'I am entrusting each of you with fifty thousand dollars to trade with while I am away. Invest it and put the money to work until I return.' 14 "Some of his countrymen despised the prince and sent a delegation after him to declare before the royals, 'We refuse to let this man rule over us! He will not be our king!' 15 "Nevertheless, he was crowned king and returned to his land. Then he summoned his ten servants to see how much each one had earned and what their profits came to. 16 "The first one came forward and said, 'Master, I took what you gave me and invested it, and it multiplied ten times.' 17 " 'Splendid! You have done well, my excellent servant. Because you have shown that you can be trusted in this small matter, I now grant you authority to rule over ten fortress cities.' 18 "The second came and said, 'Master, what you left with me has multiplied five times.' 19 "His master said, 'I also grant you authority in my kingdom over five fortress cities.' 20 "Another came before the king and said, 'Master, here is the money you entrusted to me. I hid it for safekeeping. 21 You see, I live in fear of you, for everyone knows you are a strict master and impossible to please. You push us for a high return on all that you own, and you always want to gain from someone else's efforts.' 22 "The king said, 'You wicked servant! I will judge you using your own words. If what you said about me is true, that I am a harsh man, pushing you for a high return and wanting gain from others' efforts, 23 why didn't you at least put my money in the bank to earn some interest on what I entrusted to you?' 24 "The king said to his other servants, 'Take the money he has and give it to the faithful servant who multiplied my money ten times over.'
Would an austere God say this – The LORD says, "Now, let's settle the matter. You are stained red with sin, but I will wash you as clean as snow. Although your stains are deep red, you will be as white as wool. Isaiah 1:18 (TEV)
YOU FIND WHAT YOU'RE LOOKING FOR:
A traveler came upon an old farmer hoeing in his field beside the road. Eager to rest his feet, the wanderer hailed the countryman, who seemed happy enough to straighten his back and talk for a moment.
"What sort of people live in the next town?" asked the stranger.
"What were the people like where you've come from?" replied the farmer, answering the question with another question.
"They were a bad lot. Troublemakers all, and lazy too. The most selfish people in the world, and not a one of them to be trusted. I'm happy to be leaving the scoundrels."
"Is that so?" replied the old farmer. "Well, I'm afraid that you'll find the same sort in the next town.
Disappointed, the traveler trudged on his way, and the farmer returned to his work.
Some time later another stranger, coming from the same direction, hailed the farmer, and they stopped to talk. "What sort of people live in the next town?" he asked.
"What were the people like where you've come from?" replied the farmer once again.
"They were the best people in the world. Hard working, honest, and friendly. I'm sorry to be leaving them."
"Fear not," said the farmer. "You'll find the same sort in the next town."
1John 1:8 If we say that we have no sin, we deceive ourselves, and the truth is not in us. 9 If we confess our sins, He is faithful and just to forgive us our sins and to cleanse us from all unrighteousness.
Psalm 145:8 The LORD is gracious and full of compassion, slow to anger and great in mercy. 9 The LORD isgood to all, and His tender mercies are over all His works.
Psalms 107:1 Oh, give thanks to the LORD, for He is good! For His mercy endures forever. 2 Let the redeemed of the LORD say so, whom He has redeemed from the hand of the enemy
Psalm 84:11 For the LORD God is a sun and shield; the LORD will give grace and glory; no good thing will He withhold from those who walk uprightly. 12 O LORD of hosts, blessed is the man who trusts in You!
Psalm 34:8 Oh, taste and see that the LORD is good; blessed is the man who trusts in Him!
---