Living Water Church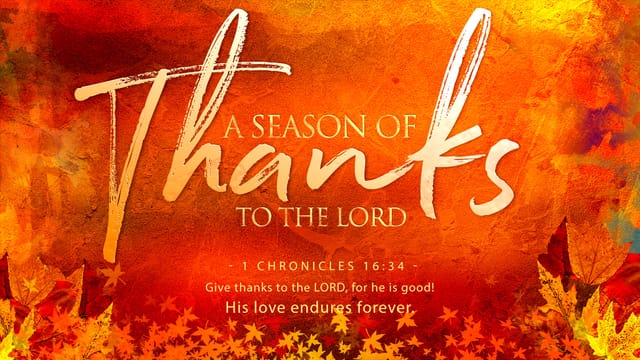 A Season of Thanks
We're so glad you've decided to spend part of your day with us at Living Water Church. We pray that the message will inspire and encourage you to be all you can for Christ. This weekend we're talking about the Season Of Thanks – we're in the month where we celebrate the holiday of Thanksgiving but he point is this…giving thanks is not to be a seasonal thing, it's to be a lifestyle for the follower of Christ. However, the Thanksgiving season can serve as a reminder that in all things we are called to give thanks…what's ONE thing that you're thankful for today…
Give
Thank you for your support of Living Water Church
34 Oh, give thanks to the Lord, for He is good!For His mercy endures forever.
Sunday, November 10, 2019 – Pastor George Dupree
1 Chronicles 16:34 – Give thanks to the Lord for He is Good. His love endures forever.
Today we'll look at giving of thanks. Giving of thanks can be equated to having an attitude of gratitude. In aeronautics the attitude it's the positioning of the aircraft's axes in relation to the horizon. In other words the attitude of the plane is where the nose is pointing.
In life if your nose is always pointing down you won't be able to tell where you're going, you probably have a sad or sorrowful emotion about you. If your nose is up in the air you're probably feeling a little better than everyone around you. Having an attitude of gratitude keeps you on a good plane. Not too low, not too high. The reason that you're not too low is you consider your life in God's Hands so you're not worried or sad about your life. The reason that you're not too high is because you consider everything that you have has originated from God so you're pride isn't a problem.
There are instructions in the Bible about giving thanks and there are also benefits of giving thanks – let's take a look.
When You Think Of God Give Thanks
† Psalms 30:4 Sing praise to the LORD, you saints of His and give thanks at the remembrance of His holy name.
† Psalms 92:1 It is good to give thanks to the LORD, and to sing praises to Your name, O Most High;
Four Times In Psalms 107 It Says This
† Psalms 107:21 Oh, that men would give thanks to the LORD for His goodness, and for His wonderful works to the children of men!
† Matthew 15:36 And He took the seven loaves and the fish and gave thanks, broke them and gave them to His disciples; and the disciples gave to the multitude.
In Everything Give Thanks
† 1Thessalonians 5:18 in everything give thanks; for this is the will of God in Christ Jesus for you.
Sometimes It's A Sacrifice
† Hebrews 13:15 Therefore by Him let us continually offer the sacrifice of praise to God, that is, the fruit of our lips, giving thanks to His name.
Benefits Of Giving Thanks – Entrance Into His Presence
† Psalms 100:1 Make a joyful shout to the LORD, all you lands! 2 Serve the LORD with gladness; Come before His presence with singing 3 Know that the LORD, He is God; It is He who has made us, and not we ourselves; we are His people and the sheep of His pasture. 4 Enter into His gates with thanksgiving, and into His courts with praise. Be thankful to Him, and bless His name. 5 For the LORD is good; His mercy is everlasting, and His truth endures to all generations.
† Philippians 4:4 Rejoice in the Lord always. Again I will say, rejoice!
† Philippians 4:6 Be anxious for nothing, but in everything by prayer and supplication, with thanksgiving, let your requests be made known to God; 7 and the peace of God, which surpasses all understanding, will guard your hearts and minds through Christ Jesus.
Thank Him because you WANT to
† Leviticus 22:29 And when you offer a sacrifice of thanksgiving to the LORD, offer it of your own free will.
---