Living Water Church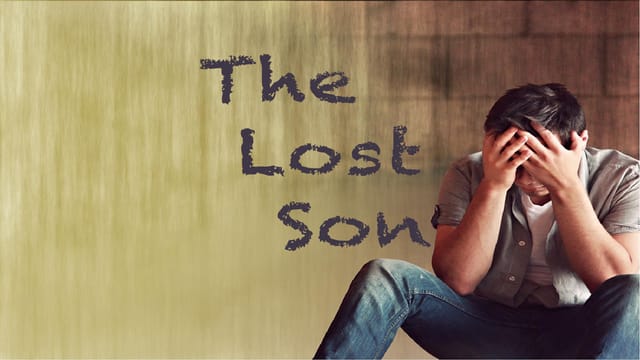 We're so glad you've decided to spend part of your day with us at Living Water Church. We pray that the message will inspire and encourage you to be all you can for Christ. Today we're talking about the Parable of the Lost Son – The point is this…you're never forgotten by God and you're never too lost either
Sunday, September 1, 2019 – Pastor George Dupree
Probably everybody here have some things that they'd be ashamed to have other people know about. There's probably some people here today who carry shame because of things they've done. But today I want you to know that God doesn't want you to carry shame because the cross brings freedom from shame because of what Jesus has done for us.
Shame is a feeling of humiliation caused by wrong behavior and brings a loss of self respect.
There is absolutely no heavenly purpose for shame.
Sin is something we do, guilt is something we feel, shame is something we carry and it all leads to condemnation.
When a building is condemned it is declared unfit for use, that's what shame and condemnation will do to you, it'll tell you that your unfit for use, unfit for life, it'll tell you you're useless and hopeless. Shame will disqualify you.
In the Bible there's a story about a young man who left home with a lot of money and big dreams of being free from his family and ready for a great time.
He told his father to give him the inheritance that would come to him when his father died, what he was saying was "I can't wait until you die, I want it now."
So he goes off with his pockets full and his imagination of fun and parties running in high gear.
After a while he loses it all and he says to himself
How many of my father's hired servants have bread enough and to spare, and I perish with hunger!I will arise and go to my father, and will say to him, "Father, I have sinned against heaven and before you,and I am no longer worthy to be called your son. Make me like one of your hired servants.
He makes his way home but then the most incredible things happens –
Luke 15:20 "And he arose and came to his father. But when he was still a great way off, his father saw him and had compassion, and ran and fell on his neck and kissed him.21 And the son said to him, "Father, I have sinned against heaven and in your sight, and am no longer worthy to be called your son.'22 "But the father said to his servants, 'Bring out the best robe and put iton him, and put a ring on his hand and sandals on hisfeet.23 And bring the fatted calf here and kill it,and let us eat and be merry;24 for this my son was dead and is alive again; he was lost and is found.' And they began to be merry.
In the culture of that day rings, robes, sandals & celebrations were not waiting for a person who had done what this guy did.
The sandals = FAMILY – Servants didn't wear sandals
Instead a ceremony of shame would take place, not the open arms of his father.
If a Jewish boy, in first-century Palestine, wastes his family inheritance among Gentiles and then dares to return home, the village performs what is called the kezazahceremony. In this ceremony, the village breaks a large pot in front of the boy, symbolically portraying and officially proclaiming the separation between the boy and the village.
The father, in this culture, is expected to sit in the house, emotionally withdrawn, and wait to hear what the son has to say for himself. The mother, on the other hand, can greet the poor boy with kisses before the kezazahceremony.
Although running is an act done mostly by servants, the mother is allowed to run a little bit to greet her returning son. However, a patriarch never runs. Doing so would be highly undignified and even contemptible.
In the parable, the father breaks all the rules and looks extremely undignified as he runs towards his son and plays the role of mother as he showers him with kisses! There will be no kezazah ceremony. Instead of shame there's a celebration for the lost son has been found.
I have to get to my son with mercy before they get to him with judgment. I have to give him grace before they give him shame. My SON is home.
This is an incredible story of God's grace, mercy and forgiveness.
Jesus took our sin and shame with Him to the cross, that's why the cross brings freedom from shame.
All that it takes on our part is believing, not trying harder, just believing.
Romans 10:11 For the Scripture says, "Whoever believes on Him will not be put to shame."
Isaiah tells us what happens because of what Jesus did for us
Isaiah 54:4 "Do not fear, for you will not be ashamed; neither be disgraced, for you will not be put to shame; for you will forget the shame of your youth, and will not remember the reproach of your widowhood anymore.
2Corinthians 5:21 For He made Him who knew no sin to besin for us, that we might become the righteousness of God in Him.
If you think you've gone too far from God, you're wrong.
If you think it's too late for you, you're wrong.
If you think He can't forgive you, you're wrong.
If you're thinking of waiting, don't wait, come right now…
HIS ARMS ARE OPEN and He's saying what He
Are you tired? Worn out? Burned out on religion? Come to me. Get away with me and you'll recover your life. I'll show you how to take a real rest – Matthew 11:28
---