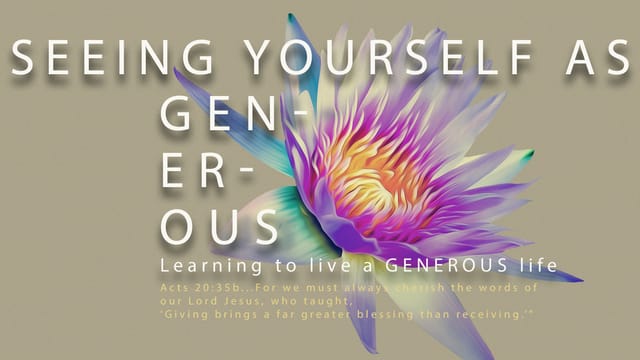 20/20 Vision – Seeing Yourself As Generous
We're so glad you've decided to spend part of your day with us at Living Water Church. We pray that the message will inspire and encourage you to be all you can for Christ. 20/20 vision is the hallmark of NORMAL vision. When believers have NORMAL vision they see what God sees and they're going to see the limitless opportunities for the purposes of advancing God's Kingdom. Today we'll talk about how we are created to be generous and how when see ourselves as generous we can begin to grow in generosity…stay tuned to hear a word from God.
Give
Thank you for your support of Living Water Church
20/20 Vision – Seeing Ourselves As GENEROUS
Sunday, February 23, 2020 – Pastor George M. Dupree
Isaiah 33:17 Your eyes will behold the king in his beauty; they will see a land that stretches afar.
Since we are created in the image of God, who is GENEROUS, we ARE generous. This thing is this…generosity is a matter of the heart. We are all born with a heart and our heart has to grow and be used in order to serve us as designed. In the same way our GENEROUS heart has to grow and be used in order to serve the purpose for which it was created. There are times when we want to be generous; we have the heart to be generous; that's when there needs to be the actions of generosity to have the desire of our heart fulfilled.
35 I've left you an example of how you should serve and take care of those who are weak. For we must always cherish the words of our Lord Jesus, who taught, 'Giving brings a far greater blessing than receiving.'"
2 Corinthians 8:7 But just as you excel in everything — in faith, in speech, in knowledge, in complete earnestness and in your love for us — see that you also EXCEL in this grace of giving. (The Passion Translation – make sure that you also excel in grace-filled generosity)
We know that grace is the power of God that enables us to live as God designed us to live.
Here we see that Paul is encouraging us to live generously by grace. He's telling us to let God work in us by His grace so that we will become generous everyday in every way.
Before you can EXCEL you need to learn the basics.
If you really want to be great at something you'll need to be willing to take some lessons.
7 Each of you should give what you have decided in your heart to give, not reluctantly or under compulsion, for God loves a cheerful giver. 8 And God is able to bless you abundantly, so that in all things at all times, having all that you need, you will abound in every good work. 9 As it is written:"They have freely scattered their gifts to the poor;their righteousness endures forever." 10 Now he who supplies seed to the sower and bread for food will also supply and increase your store of seed and will enlarge the harvest of your righteousness. 11 You will be enriched in every way so that you can be generous on every occasion, and through us your generosity will result in thanksgiving to God.
---