Living Water Church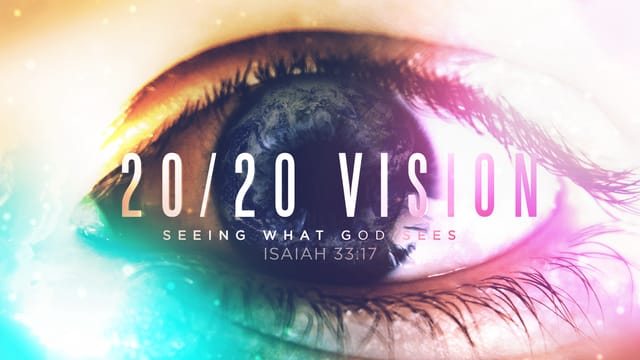 20/20 Vision – Seeing the Unseen
We're so glad you've decided to spend part of your day with us at Living Water Church. We pray that the message will inspire and encourage you to be all you can for Christ. 20/20 vision is the hallmark of NORMAL vision. When believers have NORMAL vision they see what God sees and they're going to see the limitless opportunities for the purposes of advancing God's Kingdom. Today we'll look at a part of the Unseen World and its inhabitants – Angels…stay tuned to hear a word from God.
Give
Thank you for your support of Living Water Church
Follow Us On Facebook
Follow Us On Instagram
20/20 Vision – Seeing The Unseen
Sunday, February 9, 2020 – Pastor George M. Dupree
Isaiah 33:17 Your eyes will behold the king in his beauty; they will see a land that stretches afar.
Angels are ministering spirits
Hebrews 1:
14 Are they not all ministering spirits sent forth to minister for those who will inherit salvation?
Angels ministered to Jesus' humanity in His temptation
Matthew 4:11
Then the devil left Him, and behold, angels came and ministered to Him.
Psalms 91:
1 Those who live in the shelter of the Most Highwill find rest in the shadow of the Almighty.
11 For he will order his angelsto protect you wherever you go.
Isaiah 6:
1 It was in the year King Uzziah died that I saw the Lord. He was sitting on a lofty throne, and the train of his robe filled the Temple. 2 Attending him were mighty seraphim, each having six wings. With two wings they covered their faces, with two they covered their feet, and with two they flew. 3 They were calling out to each other,"Holy, holy, holy is the Lord of Heaven's Armies!The whole earth is filled with his glory!" 4 Their voices shook the Temple to its foundations, and the entire building was filled with smoke.
Revelation 4:
8 The four living creatures, each having six wings, were full of eyes around and within. And they do not rest day or night, saying:"Holy, holy, holy,Lord God Almighty,Who was and is and is to come!"
Revelation 22:
8 Now I, John, saw and heard these things. And when I heard and saw, I fell down to worship before the feet of the angel who showed me these things. 9 Then he said to me, "See that you do not do that. For I am your fellow servant, and of your brethren the prophets, and of those who keep the words of this book. Worship God."
II Kings 6:
8 Now the king of Syria was making war against Israel; and he consulted with his servants, saying, "My camp will be in such and such a place." 9 And the man of God sent to the king of Israel, saying, "Beware that you do not pass this place, for the Syrians are coming down there." 10 Then the king of Israel sent someone to the place of which the man of God had told him. Thus he warned him, and he was watchful there, not just once or twice. 11 Therefore the heart of the king of Syria was greatly troubled by this thing; and he called his servants and said to them, "Will you not show me which of us is for the king of Israel?" 12 And one of his servants said, "None, my lord, O king; but Elisha, the prophet who is in Israel, tells the king of Israel the words that you speak in your bedroom." 13 So he said, "Go and see where he is, that I may send and get him."And it was told him, saying, "Surely he is in Dothan." 14 Therefore he sent horses and chariots and a great army there, and they came by night and surrounded the city. 15 And when the servant of the man of God arose early and went out, there was an army, surrounding the city with horses and chariots. And his servant said to him, "Alas, my master! What shall we do?" 16 So he answered, "Do not fear, for those who are with us are more than those who are with them." 17 And Elisha prayed, and said, "Lord, I pray, open his eyes that he may see." Then the Lord opened the eyes of the young man, and he saw. And behold, the mountain was full of horses and chariots of fire all around Elisha.
The city is surrounded with horses and chariots from the enemy. It looks bad, very bad. But there is something that Gehazi can't see. He can clearly see the natural realm. What he can't see is the supernatural realm. His name means valley of a visionary. His name says he can see, but he can't. His gifting is to see, but he can't. What he needs is the word of the Lord. Sometimes we have a gifting but it doesn't manifest. It needs the release from the prophetic. After Elisha prayed Gehazi's eyes are opened to see the unseen. He sees that the mountain was filled with horses and chariots, but they were different than the enemy's horses and chariots, they were made of fire. And they surrounded Elisha.
Angels are a part of the unseen world.
Hebrews 13:
2 Be not forgetful to entertain strangers: for thereby some have entertained angels unawares.
It's not so important that we see Angels, it's important to know that they see us!
---