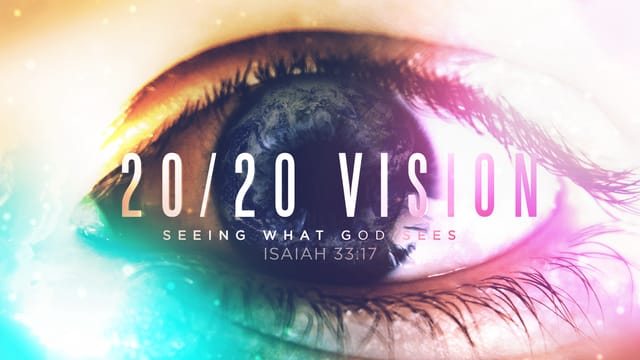 20/20 Vision – See What God Says
We're so glad you've decided to spend part of your day with us at Living Water Church. We pray that the message will inspire and encourage you to be all you can for Christ. 20/20 vision is the hallmark of NORMAL vision. When believers have NORMAL vision they see what God sees and they're going to see the limitless opportunities for the purposes of advancing God's Kingdom. Today we'll look at a people who were told something by God but most of them could only see what they were seeing and therefore they couldn't enter into the promises that God had made…stay tuned to hear a word from God.
Give
Thank you for your support of Living Water Church
Follow Us On Facebook
Follow Us On Instagram
20/20 Vision – See What God See's
Sunday, January 26, 2020 – Pastor George M. Dupree
Isaiah 33:17 Your eyes will behold the king in his beauty; they will see a land that stretches afar.
God told Moses to send 12 men and search the land that He was giving to them.
1 And the Lord spoke to Moses, saying, 2 "Send men to spy out the land of Canaan, which I am giving to the children of Israel; from each tribe of their fathers you shall send a man, every one a leader among them."
GOD SAID He was GIVING the land to the children of Israel.
The mistake of the spies was they saw what MAN sees, NOT what GOD sees.
The key to seeing what God sees is to know His word and to believe it. It's funny that sometimes God will call us brave, even when we feel afraid, He says we're righteous, even though sometimes we don't feel that way. He's the God who calls things differently.
17 (as it is written, "I have made you a father of many nations") in the presence of Him whom he believed—God, who gives life to the dead and calls those things which do not exist as though they did;
Moses told them to spy out the land. He wanted to know what the land was like, if the people were weak or strong etc. He said be of good courage and bring back some fruit from the land.
27 Then they told him, and said: "We went to the land where you sent us. It truly flows with milk and honey, and this is its fruit. 28 Nevertheless the people who dwell in the land are strong; the cities are fortified and very large; moreover we saw the descendants of Anak there. 29 The Amalekites dwell in the land of the South; the Hittites, the Jebusites, and the Amorites dwell in the mountains; and the Canaanites dwell by the sea and along the banks of the Jordan." 30 Then Caleb quieted the people before Moses, and said, "Let us go up at once and take possession, for we are well able to overcome it." 31 But the men who had gone up with him said, "We are not able to go up against the people, for they are stronger than we." 32 And they gave the children of Israel a bad report of the land which they had spied out, saying, "The land through which we have gone as spies is a land that devours its inhabitants, and all the people whom we saw in it are men of great stature. 33 There we saw the giants (the descendants of Anak came from the giants); and we were like grasshoppers in our own sight, and so we were in their sight."
So they went to spy out the land and then they came back with a bad report, it was bad because it was contrary to what God had said.
They compared themselves to their enemy and they saw themselves as small and weak and then they were like grasshoppers in their own sight…
If we want to see what God sees we have to hear what He says.
Then we have to be doers of what He has said for us to do.
22 Don't just listen to the Word of Truth and not respond to it, for that is the essence of self-deception. So always let his Word become like poetry written and fulfilled by your life! 23 If you listen to the Word and don't live out the message you hear, you become like the person who looks in the mirror of the Word to discover the reflection of his face in the beginning. 24 You perceive how God sees you in the mirror of the Word, but then you go out and forget your divine origin. 25 But those who set their gaze deeply into the perfecting law of liberty are fascinated by and respond to the truth they hear and are strengthened by it—they experience God's blessing in all that they do! 26 If someone believes they have a relationship with God but fails to guard his words then his heart is drifting away and his religion is shallow and empty
If we are going to posses all that God has for us we must
See Ourselves As He Sees Us
---