Living Water Church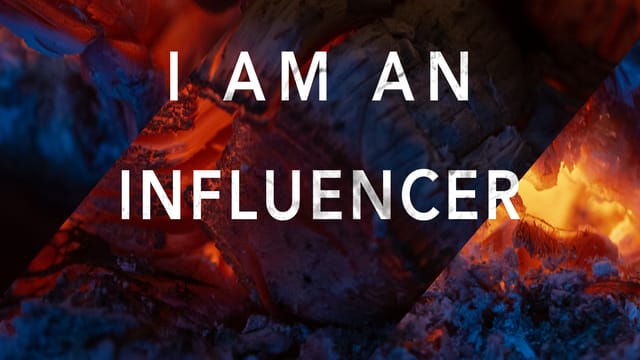 I Am An Influencer
July 25th & 26th Weekend Service – Pastor George Dupree
The term influencer is a popular word in our society today. Maybe you're familiar with it and then again maybe you're not.
In today's society an influencer is someone who has: the power to affect the purchasing decisions of others because of his or her authority, knowledge, position, or relationship with his or her audience.
Oftentimes a modern day influencer is a celebrity, someone who has anywhere from 1000 to tens of millions of followers, most notably on Instagram. By the way, my version of Microsoft Word doesn't recognize Instagram as a correctly spelled word; I guess I'm just out of touch!
It wasn't too long ago when we would think of influencers as teachers, parents, coaches, civic leaders etc. Can you think of someone in your life that has been an influencer to you?
Of course, not all influencers are good ones. I can remember being told that someone was a bad influence in my life.
So what's my point in this message?
My point is this YOU ARE AN INFLUENCER!
An influencer has the capacity to have an effect on the character, development, or behavior of someone.
In essence, an influencer influences people toward an intended goal. In marketing that would usually be geared toward the purchase of a product.
In life it would be geared toward fulfilling ones destiny.
A Christ following influencer will have the possibility of influencing someone to make a decision to begin to follow or to continue following Jesus.
The young Pastor named Timothy was told by the older Apostle Paul that he was to be an intentional influencer.
11 Teach these things and insist that everyone learn them. 12 Don't let anyone think less of you because you are young. Be an example to all believers in what you say, in the way you live, in your love, your faith, and your purity. 13 Until I get there, focus on reading the Scriptures to the church, encouraging the believers, and teaching them. 14 Do not neglect the spiritual gift you received through the prophecy spoken over you when the elders of the church laid their hands on you. 15 Give your complete attention to these matters. Throw yourself into your tasks so that everyone will see your progress. 16 Keep a close watch on how you live and on your teaching. Stay true to what is right for the sake of your own salvation and the salvation of those who hear you.
Paul was telling Timothy to lead by example. He was saying that because people will notice more of what we do than what you say.
However, what we say is very important too. For instance, you can use your words to be an encourager or an affirmer. If you look for it you can find SOMETHING to encourage someone with.
Let's be good influences and we'll live a life that pleases God.
· Colossians 1:10 We pray that you'll live well for the Master, making him proud of you as you work hard in his orchard…
Be an influencer in what you say
· Ephesians 4:26 Do not let any unwholesome talk come out of your mouths, but only what is helpful for building others up according to their needs, that it may benefit those who listen.
Be an influencer in the way you live
· This kind of living is a lifestyle not just occasional actions.
· Be a person of prayer – worship – fellowship
Be an influencer in the way you love
· John 13:34 So now I am giving you a new commandment: Love each other. Just as I have loved you, you should love each other. 35 Your love for one another will prove to the world that you are my disciples.
Be an influencer in how you live your faith
· Galatians 5:6 When you're placed into the Anointed One and joined to him, circumcision and religious obligations can benefit you nothing. All that matters now is living in the faith that is activated and brought to perfection by love.
Be an influencer in your purity
· Matthew 5:8 Blessed are the pure of heart for they will see God.
You will be helped in living in purity by surrounding yourself in godly community
By influencing in these ways we can change someone's life, maybe even the whole world.
Give
Thank You For Your Support & Generosity
---