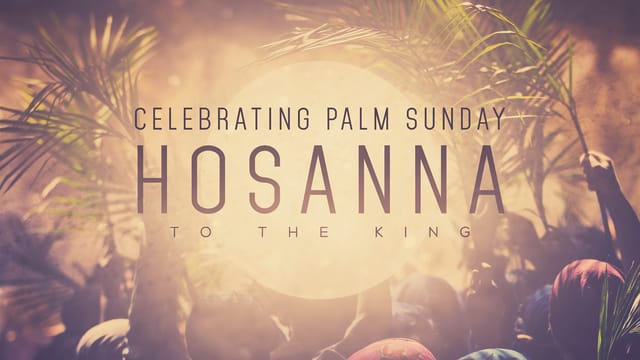 We're so glad you've decided to spend part of your day with us at Living Water Church. We pray that the message will inspire and encourage you to be all you can for Christ. Today is Palm Sunday, the day we remember the Triumphal Entry of Jesus into Jerusalem at the Passover Feast. At the feast were some Greeks who had come to worship and they asked Philip if they could see Jesus. Pastor George Dupree will be talking about how important it is during this COVID-19 Pandemic for the Church to show Jesus to people…how will people see Jesus through you?
Thank you for your support of Living Water Church you can give here

Celebrating Palm Sunday – People Want To See Jesus
Sunday, April 5, 2020 – Pastor George Dupree
The Passover Celebration is taking place and Jerusalem is overflowing with worshipers from all over the world. It's the biggest feast day in Judaism. Passover represents freedom – freedom from slavery and bondage.
After centuries of slavery the children of Israel were freed from the land of Egypt. One day they were slaves and the next day they were free. Just like when we are born-again, one moment we're a slave to sin; the next moment we're free.
17 Therefore, if anyone is in Christ, he is a new creation; old things have passed away; behold, all things have become new.
As the feast is approaching Jesus makes what is know as His Triumphal Entry into Jerusalem He comes riding on a donkey as the King of Israel. It might seem strange to us that He would ride a donkey but there was great meaning to this.
1 Now when they drew near Jerusalem, and came to Bethphage, at the Mount of Olives, then Jesus sent two disciples, 2 saying to them, "Go into the village opposite you, and immediately you will find a donkey tied, and a colt with her. Loose them and bring them to Me. 3 And if anyone says anything to you, you shall say, 'The Lord has need of them,' and immediately he will send them." 4 All this was done that it might be fulfilled which was spoken by the prophet, saying: 5 "Tell the daughter of Zion,'Behold, your King is coming to you,Lowly, and sitting on a donkey,A colt, the foal of a donkey.' " 6 So the disciples went and did as Jesus commanded them. 7 They brought the donkey and the colt, laid their clothes on them, and set Him on them. 8 And a very great multitude spread their clothes on the road; others cut down branches from the trees and spread them on the road. 9 Then the multitudes who went before and those who followed cried out, saying:"Hosanna to the Son of David!'Blessed is He who comes in the name of the Lord!'Hosanna in the highest!" 10 And when He had come into Jerusalem, all the city was moved, saying, "Who is this?" 11 So the multitudes said, "This is Jesus, the prophet from Nazareth of Galilee."
13 But every firstborn of a donkey you shall redeem with a lamb; and if you will not redeem it, then you shall break its neck. And all the firstborn of man among your sons you shall redeem.
Why A Donkey? – The donkey is an animal of peace; the horse is an animal of war. A king came riding upon a horse when he was intending to make war and rode upon a donkey when he wanted to show that he was coming in peace. Jesus' triumphal entry into Jerusalem said that He came as the Prince of Peace.
They took palm branches and went out to meet him shouting "Hosanna, blessed is he who comes in the name of the Lord – Blessed is the King of Israel. –John 12:13
In ancient times, palm branches symbolized goodness and victory.
Waving and placing palm branches was a sign of HONOR
They shouted Hosanna; which means Save now, I pray, O LORD; O LORD, I pray, send now prosperity.
An interesting thing is told to us from John's Gospel about some people who were there
John 12:20 Now there were some Greeks among those who went up to worship at the Feast. 21 They came to Philip, who was from Bethsaida in Galilee, with a request. "Sir," they said, "we would like to see Jesus."
Whether they know it or not people want to see Jesus. People want to know and experience something greater than what this life has to offer.
Ecclesiastes 3:11 He has also set eternity in the hearts of men
God has placed in the heart of man a desire for something more than this temporary life.
Especially during this time of the COVID-19 Coronavirus Pandemic people need the Hope that Jesus brings.
I am so happy to see so many Churches reaching out to people during this time – Churches are stepping up efforts to bring Hope to people by streaming services, sending words of encouragement over social media, text messages, phone calls, emails, written letters and cards, shopping for people, singing songs outside of houses and a myriad of other types of ways.
It's a very sad time for people who are hospitalized to things other than COVID-19 and they can't have visitors. Sad also for people afflicted with the virus and for the loved ones of people who have succumbed to the virus.
Church Let's Let Our Light Shine In This Dark Time.
I pray that after this is over, and it will pass, that the Church will continue with string efforts to connect with one another and reach out to a world that needs Jesus.
What we want to think about today is –
How Do People See Jesus Through Us As Christians?
Read more...
---