Living Water Church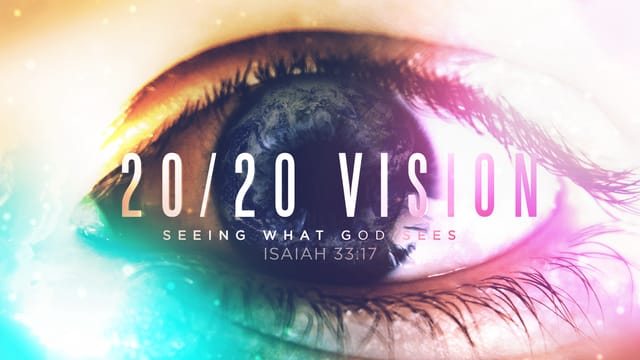 20/20 Vision Seeing What God Sees (2)
We're so glad you've decided to spend part of your day with us at Living Water Church. We pray that the message will inspire and encourage you to be all you can for Christ. 20/20 vision is the hallmark of NORMAL vision. When believers have NORMAL vision they see what God sees and they're going to see the limitless opportunities for the purposes of advancing God's Kingdom. Today we'll look at a people who were under attack by armies that they could never defeat…that's what they saw, but God saw something different and He wanted them to see what He saw, they just had to position themselves and be still before Him…stay tuned to hear a word from God.
Thank you for your support of Living Water Church
Follow Us On Facebook
Follow Us On Instagram
20/20 Vision – Seeing What God See's
Sunday, January 19, 2020 – Pastor George M. Dupree
Isaiah 33:17 Your eyes will behold the king in his beauty; they will see a land that stretches afar.
It May Look Like I'm Surrounded But I'm Surrounded By You!
In the days when Jehoshaphat was king in Judah the people were living in peace, there was prosperity in the land, Jehoshaphat was a king who honored God and he taught the people do the same. There was a time when he was placing judges in the land to lead the people and he told them to honor the Lord in all they did.
2Chronicles 19:4 Jehoshaphat lived in Jerusalem, and he went out again among the people from Beersheba to the hill country of Ephraim and turned them back to the LORD, the God of their fathers. 5 He appointed judges in the land, in each of the fortified cities of Judah. 6 He told them, "Consider carefully what you do, because you are not judging for man but for the LORD, who is with you whenever you give a verdict. 7 Now let the fear of the LORD be upon you. Judge carefully, for with the LORD our God there is no injustice or partiality or bribery."
That's what leaders who love God do; they lead people to God. Leaders who love God lead people who have wandered from God back to Him. They speak the truth in love even if it's not popular.
One day enemies gathered against Judah – notice that it says
AFTER THAT – after what? After the king made sure the people honored the Lord – the devil was now stirred up against Judah.
2Chronicles 20:1 It happened after this that the people of Moab with the people of Ammon, and others with them besides the Ammonites, came to battle against Jehoshaphat. 2 Then some came and told Jehoshaphat, saying, "A great multitude is coming against you from beyond the sea, from Syria; and they are in Hazazon Tamar" (which is En Gedi). 3 And Jehoshaphat feared, and set himself to seek the LORD, and proclaimed a fast throughout all Judah. 4 So Judah gathered together to ask help from the LORD; and from all the cities of Judah they came to seek the LORD. 5 Then Jehoshaphat stood in the assembly of Judah and Jerusalem, in the house of the LORD, before the new court, 6 and said: "O LORD God of our fathers, are You not God in heaven, and do You not rule over all the kingdoms of the nations, and in Your hand is there not power and might, so that no one is able to withstand You? 7 Are You not our God, who drove out the inhabitants of this land before Your people Israel, and gave it to the descendants of Abraham Your friend forever? 8 And they dwell in it, and have built You a sanctuary in it for Your name, saying, 9 "If disaster comes upon us—sword, judgment, pestilence, or famine—we will stand before this temple and in Your presence (for Your name is in this temple), and cry out to You in our affliction, and You will hear and save.' 10 And now, here are the people of Ammon, Moab, and Mount Seir—whom You would not let Israel invade when they came out of the land of Egypt, but they turned from them and did not destroy them— 11 here they are, rewarding us by coming to throw us out of Your possession which You have given us to inherit. 12 O our God, will You not judge them? For we have no power against this great multitude that is coming against us; nor do we know what to do, but our eyes are upon You." 13 Now all Judah, with their little ones, their wives, and their children, stood before the LORD. 14 Then the Spirit of the LORD came upon Jahaziel the son of Zechariah, the son of Benaiah, the son of Jeiel, the son of Mattaniah, a Levite of the sons of Asaph, in the midst of the assembly. 15 And he said, "Listen, all you of Judah and you inhabitants of Jerusalem, and you, King Jehoshaphat! Thus says the LORD to you: 'Do not be afraid nor dismayed because of this great multitude, for the battle is not yours, but God's. 16 Tomorrow go down against them. They will surely come up by the Ascent of Ziz (GLISTENING), and you will find them at the end of the brook before the Wilderness of Jeruel (FOUNDED BY GOD). 17 You will not need to fight in this battle. Position yourselves, stand still and see the salvation of the LORD, who is with you, O Judah and Jerusalem!' Do not fear or be dismayed; tomorrow go out against them, for the LORD is with you." 18 And Jehoshaphat bowed his head with his face to the ground, and all Judah and the inhabitants of Jerusalem bowed before the LORD, worshiping the LORD. 19 Then the Levites of the children of the Kohathites and of the children of the Korahites stood up to praise the LORD God of Israel with voices loud and high. 20 So they rose early in the morning and went out into the Wilderness of Tekoa (TRUMPET); and as they went out, Jehoshaphat stood and said, "Hear me, O Judah and you inhabitants of Jerusalem: Believe in the LORD your God, and you shall be established; believe His prophets, and you shall prosper." 21 And when he had consulted with the people, he appointed those who should sing to the LORD, and who should praise the beauty of holiness, as they went out before the army and were saying:
"Praise the LORD, For His mercy endures forever."
2Chronicles 20:22 (CEV) As soon as they began singing, the LORD confused the enemy camp, 23 so that the Ammonite and Moabite troops attacked and completely destroyed those from Edom. Then they turned against each other and fought until the entire camp was wiped out! 24 When Judah's army reached the tower that overlooked the desert, they saw that every soldier in the enemy's army was lying dead on the ground.
No matter what is happening remember that God is with us and He will fight for us. We need to believe Him and His Word. When we do we will be established and prosper. Like David said in Psalm 23 we will be so prosperous that our cup will overflow. Malachi said that God would pour out such a blessing that we wouldn't have room enough to contain it!
God wants to give us things so we can give them away!
---